About Us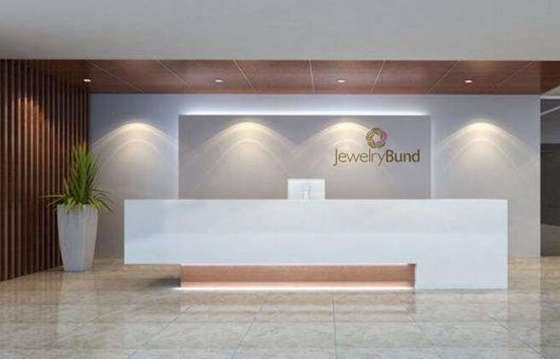 JewelryBund® is a professional jewelry & accessories manufacturing and wholesaling business, offering thousands of jewelry accessories to clients from all over the world. We are constantly researching the market and customers' needs so as to pin-point the latest fashion and trend of Western and Korean jewelry products and relevant accessories. Jewelrybund Team updates the trendy Jewelry items in a timely manner so that customers can always find valuable brand new jewelry products when visiting our site. Plus, JewelryBund owns three Jewelry & Accessories factories in China for the latest fashion jewelry productions and therefore secures the most effective way of fashion items offerings at lowest costs. Therefore, JewelryBund is your one-stop source for first-quality Jewelry products at rock-bottom prices.

Over 10 Years Experience for Jewelry and Accessories Wholesale
Established in 2008, JewelryBund® has been serving quality and satisfactions to buyers and resellers worldwide for over 10 years. Valuable manufacturing and jewelry supply-chain experience and customer-oriented mind-set guarantee the success of our clients' businesses and ours.
Trusted by Thousands of Satisfied Buyers and Resellers
JewelryBund takes customers' satisfaction as the first priority because we consider our clients as our business partners who will grow up with us for doing jewelry sales business so that we will win trusts and maintain long-term business relationship for a bilaterial success. JewelryBund has been reviewed five stars by multiple media and review sites and the records have been maintained to be excellent for the past 12 years. We are happy and proud that our clients love our jewelry products and service. Check what our buyers said about JewelryBund's products and service from HERE.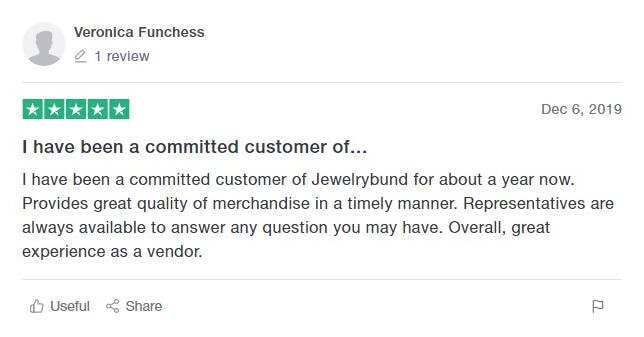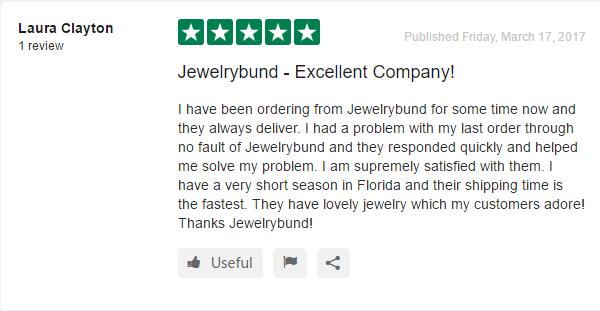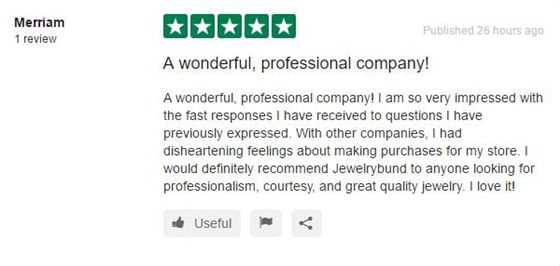 Refined Selection of Quality Products
Our team carefully design, select and update our products everyday, so you can easily locate some good deals from our thousands of selected products everytime.
Directly from Factory, Always Low Prices
By holding the belif of " One world, one jewelry wholesale price!", we always do our best to supply the BEST products with the lowest price. We have our own factories to manufacture the fashion jewelries and accessories so we guarantee our clients to obtain the first-hand wholesale prices without extra costs. Usually, you will save around 50%-85% by buying from us, the direct Fashion Jewelry & Accessories manufacturer and wholesaler, than purchasing from other similar dealers. If you happen to find others are selling the same products at a lower price than ours, please feel free to let us know either through email or livechat and we will help offer a better bid to you.
Professional Clients Service Support
JewelryBund has a well-trained professional customer service team to help clients with all sorts of questions and issues. We always can be reached through livechat, email and official community pages. We always managed to respond all customers' enquiries in a timely fashion.
Worldwide Shipping, Fast Delivery with Professional Packaging
JewelryBund ships worldwide and our customers are always surprised by how fast they receive their order from us, even when placing orders over the weekend. JewelryBund is able to offer world class shipping through partnerships with UPS/DHL/EMS/USPS and other major carriers. Professional warehouse personnel will take good care of your orders by making sure they are packed in accordance with our high standards.
Respect For Your Privacy
JewelryBund respects your right to privacy. Our goal is your complete satisfaction and we are not in the business of sharing your information with others. All personal data is stored on our secure server with multi-layer firewall protection.
Business Supporting Service
Plan to start your own business on Ebay and Amazon or in your local region but do not have a reliable supplier? JewelryBund will be your trusted products sourcing and professional business partner. We care every start-up business and we will strive to secure your business sucess with JewelryBund world class business supporting service. Sign up and place an order with us and you will be amazed to find how professional we are and why JewelryBund has been trusted by more than 600,000 customers across 200 courntries.
---
Wholesale Jewelry Warehouse Overview